Had the opportunity to cover UFC 104 at the Staples Center in Los Angeles, California this weekend for ESPN.com. I was happy when I was called to cover the assignment, I'm a big fan of the UFC, and I was happy to get the chance to shoot Lyoto Machida, a rising star in the sport and the UFC Light Heavyweight Champion. He'd be fighting in the main event against Mauricio "Shogun" Rua.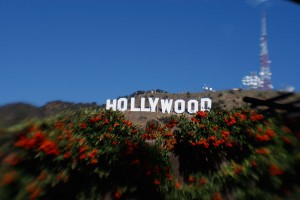 Relaxed early in the day and took a drive to Hollywood to see some sights, while I'm working, I always try to do something while on a trip to take advantage of the fact that I am lucky to have the opportunity to travel to a lot of different places I wouldn't have the chance to see if I weren't doing what I do. I also took some time to test out my new LensBaby Composer, which I had picked up a day earlier while onsite at PhotoPlus expo in New York City. Fun lens, but I'll have more on that in an upcoming blog about the lens, with plenty of examples of my travels through Hollywood.
Anyway, finished my travels and headed back to the hotel, packed up and headed over to the Staples Center. Free parking set up for the media right across the street for media (very nice), and wandered up to street level, and into something out of a Dawn of the Dead movie. Zombies everywhere! Apparently there was a Michael Jackson dance contest for the opening of his movie going on across from the Staples Center, and everyone was in costume. Only in L.A.!
Made my way through the credential line, down to the press room, quick dinner and out to the Octagon for the prelims. There are generally 10 or 11 bouts on a full UFC card, so it's a lot of shooting, and it moves very quickly, often there are only 5 minutes or so between each bout. With ESPN, I upload a shot between each bout, so I have to be very organized with my ingest, captions and editing to get it done and ready to shoot the next bout. Here are a few from the prelims that I liked.
Ryan Bader continued his hot start, running his record to 11 wins without a loss with a decision win over Eric Schafer.
Pat Barry became very emotional after his knockout win over Antoni Hardonk. He apologized to the crowd for breaking into tears, but it was a big step in his career, who can blame him. (Besides emotion makes for a good image, sorry selfish moment)
Anthony Johnson scored an impressive first round destruction over Yoshiyuki Yoshida, but lost some luster (and some cash) by coming in six pounds over the weight limit.
Jorge Rivera bloodied Rob Kimmons, and then implored the referee to stop the fight. The ref did a few moments and punches later.
And Gleison Tibau scored a win over Josh Neer landing some telling shots in the process.
The co-feature was heavyweights Cain Velasquez and Ben Rothwell, in what figured to be a back and forth slugfest, but turned out to be a one-sided affair. Velasquez took Rothwell down at will, and landed plenty of strikes, forcing the referee to stop the bout, albeit a bit early in most people's opinion.
The main event was the one I was personally waiting for, I thought it would be a barnburner type of fight as long as it lasted, and I like most felt Lyoto Machida would remain unbeaten and stop Mauricio Rua. That's why I'm not an expert. There wasn't nearly as much action as I thought, although it was a good fight, and at the end I (and just about everyone in attendance) thought Rua had captured a close, but clear decision win. What I meant was everyone except the 3 judges, as Machida won a narrow decision. Not the worst decision I've seen, but in my eyes not a good one.

Good trip, good event, decent shoot, although not near my best, action just didn't seem to set up for me, and you are not allowed to stray from your spot, just happens sometimes. Love shooting UFC events, it's becoming one of my favorites to shoot.
Please follow and like us: